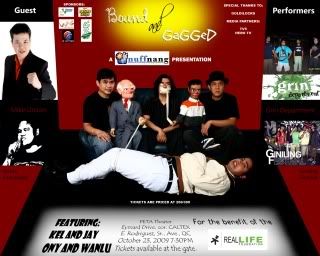 Kel and company hit it big at last year's "Laughs And Gasps" as they combined magic, comedy and awesomeness. And now, once again, the "Penn and Teller of the Philippines," Kel and Jay, are back with "Bound And Gagged."


It happens on Friday, October 23, 7:30 PM, in PETA Theater along Eymard Drive and E. Rodriguez Sr. Avenue in Quezon City.

Serving as the sequel to last year's show,

"you can expect nothing but top-notch magic and mentalism from your heroes of Mind and Magic, Kel and Jay, as well as an unprecedented showdown featuring two of the country's top ventriloquists, the Philippine's Premiere Ventriloquist, Ony Carcamo and the Ventrillusionist, Wanlu." - http://mistervader.blogspot.com/

Also performing are top comedians Richie Fernandez and Mike Unson. Special performances include the Route 196 favorite Project 2, and the Grin Department.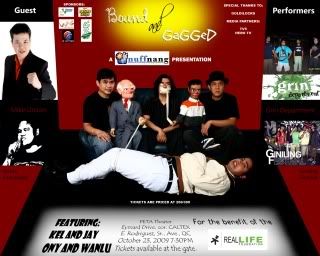 Behold and get amazed as they feature amazing acts combining Kel and Jay's style paying homages to their greatest influences Penn and Teller, Houdini, Copperfield, and Osterlind,among others.

Take a peek on one of thier acts on national TV last November in "Unang Hirit"!


Tickets are available at P200 (balcony) and P300 (orchestra) each on the venue itself. Proceeds of the show will be given to the Real Life Foundation.

This event is made possible by Outcomm and Sheero Media. For inquiries and ticket reservations, call or text 09175126883.

Remember, Bound & Gagged on Oct 23!